Have you ever been struck by the sheer beauty of a gift you've received? It is not an everyday occurrence, but it's definitely possible. When giving a gift, the key is to aim for that same level of awe-inspiring beauty. It is not so much about what you give, but rather how you present it and the amo[...]
Add To Cart
Add 8 Balloons for $42.95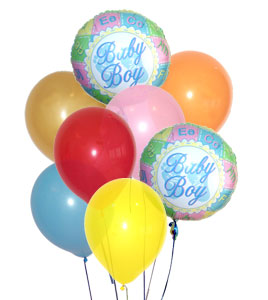 Have you ever been struck by the sheer beauty of a gift you've received? It is not an everyday occurrence, but it's definitely possible. When giving a gift, the key is to aim for that same level of awe-inspiring beauty. It is not so much about what you give, but rather how you present it and the amo[...]
Have you ever been struck by the sheer beauty of a gift you've received? It is not an everyday occurrence, but it's definitely possible. When giving a gift, the key is to aim for that same level of awe-inspiring beauty. It is not so much about what you give, but rather how you present it and the amo[...]
Have you ever been struck by the sheer beauty of a gift you've received? It is not an everyday occurrence, but it's definitely possible. When giving a gift, the key is to aim for that same level of awe-inspiring beauty. It is not so much about what you give, but rather how you present it and the amount of love you pour into it.

No matter the occasion - be it your best friend's wedding, your parents' anniversary, or your neighbor's baby shower - you want to find a gift that truly embodies your happiness and affection for the recipient. And when it comes to stunning gifts, what's more breathtaking than a bouquet of flowers?

Flowers always make for the perfect gift, which is why we recommend our High Style Bouquet - a true masterpiece of beauty and elegance.

This bouquet is a stunning combination of bold and delicate, featuring pink Peruvian Lilies, red roses, Stargazer Lilies, pink statice, mini carnations, and lush greenery. Each flower has been meticulously arranged to create a gift that will leave your loved ones speechless. And to make it even more special, the flowers are presented in a clear glass vase - the perfect way to show someone just how much you care.

But the best part? You don't even have to worry about delivering the bouquet yourself. We'll take care of it for you, ensuring that your loved ones receive their stunning gift right on time.

So why wait? Order your High Style Bouquet today and give someone a gift they'll never forget.
Item No. B11
Price: $89.95